The best place to eat in Vela Luka!
Tavern Skalinada has been having a strong a presence on the gastronomic charts of island Korcula for last 10 years.
This relatively young family restaurant is pushing the inovation limits, trying to convey true look and taste of traditional "Vela Luka" delicacies,as well as offering you contemporary dishes. We do all that, and more, adding a magic touch of our own Skalinada traits, with our very own signature dishes and family recipes, going back for generations.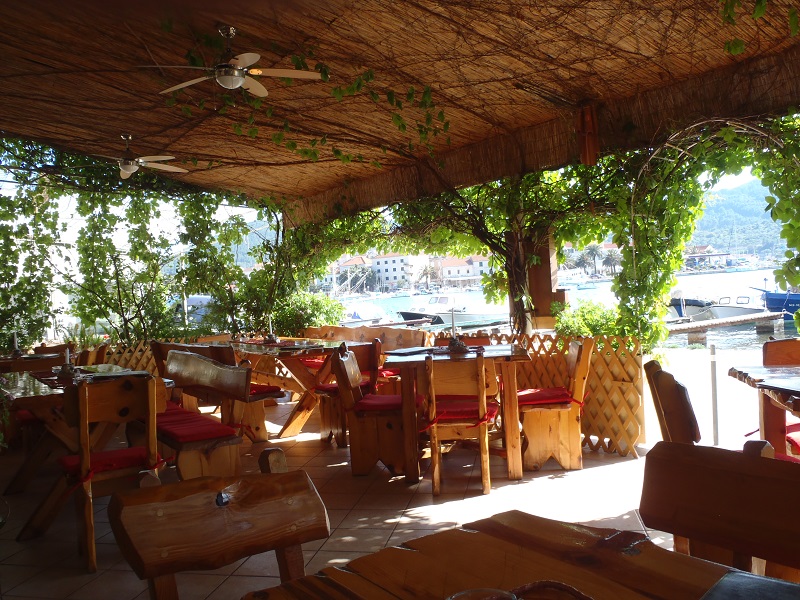 We are located at the heart of Dalmatia and middle of the Adriatic sea, so naturally, we offer a beautiful food with a beautiful view. Start thinking of a risotto with shrimps and prawns, or pasta with seafood mix, and then move on to freshly caught fish, grilled to perfection, tasty squids and octopuss, and end your dream with live lobsters, ready for you to choose and select.
Meat lovers, we think of you: lamb "on the spit", pork or goat meat, seasoned to perfection with our organic herbs, or, Peka-"meat or octopus under the bell", our famous signature
dish -meat and vegetables slowly cooked under the bell, retaining all the healthy and tasy juices, lovely mixed together.
Our wine card offers you extensive list of finest wines to choose from, all expertly chosen and selected, with a goal of introducing you to rich taste and texture of Korcula 's best, worthy products of hardworking wine producers in the region.
Cheers and enjoy!